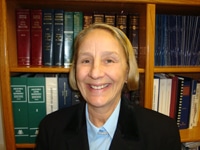 Ellen Hendrickson is a native of Maine, born in 1954. She attended the University of Maine where she obtained her Bachelor of Science Degree in Nutrition, graduating with highest honors and Summa Cum Laude. Ellen's academic performance at the University of Maine earned her acceptance into the Nutritional/Science Honorary Society, OMICRON NU. Ellen was also a college cheerleader.
After college, Ellen attended the University of California at Berkeley, where she earned her Masters in Public Health in 1978. Ellen worked for the State Health Department in Montana where she was awarded the Young Dietician of the Year in 1983.
Ellen attended law school at University of Arizona and graduated in 1986. Shortly thereafter, Ellen began her career representing individuals in Arizona's civil and administrative courts. Since that time, Ellen has continued to represent injured workers and their families fighting for compensation and financial benefits before the Industrial Commission of Arizona. Not all those battles ended in the courtroom. Some of them went on to Arizona's appellate courts setting precedent for the people of the State:
Noble v. Industrial Commission of Arizona, 188 Ariz. 48, 932 P.2d 804 (App 1996), interpreted Arizona's workers' compensation law as it relates to a compensable claim and whether an injury arises out of and in the course of employment.
In 1995, the State Bar of Arizona granted Ellen "Board Certification as a Specialist in Workers' Compensation." The Arizona Board of Legal Specialization identifies lawyers who have demonstrated superior knowledge, skill, integrity, professionalism, and competence in this specific area of law to better serve the public.
In 2000, Ellen was a founding shareholder in Hendrickson & Palmer, P.C.. Since then, Ellen has focused her practice on representing injured workers and their families in workers' compensation cases.
Outside of the practice of law, Ellen and her husband, Jon, raise their yellow Labrador retriever, "Yetti." Ellen enjoys skiing internationally and is an accomplished Masters and Podium level racer. She also enjoys travel and sailing.
Have you been injured?
Start your case now.  Complete the below form, and a qualified personal injury attorney will contact you today!